#CIIIWN Telangana Annual Leadership Conclave 2022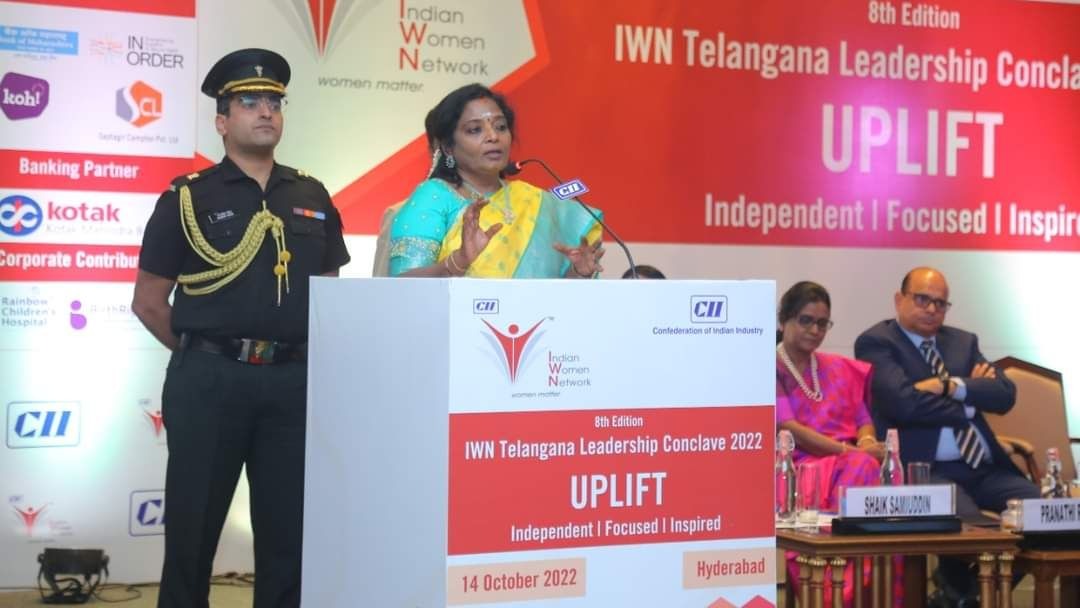 #CIIIWN Telangana Annual Leadership Conclave 2022 with the theme UPLIFT – Independent | Focused | Inspired was organized on 14 October in Hyderabad.
The Inaugural Session was addressed by :
Dr Tamilisai Soundararajan, Hon'ble Governor of Telangana and Hon'ble Lt. Governor of Puducherry
Mr Vagish Dixit, Chairman, CII Telangana & Managing Director, Alpla India Pvt Ltd.
Dr Uma Aysola, Chairwoman, CII IWN Telangana & Director – Communications Relations Partnerships, Access Health International
Dr Pranathi Reddy, Clinical Director – Obstetrician & Gynaecologist, Rainbow Hospital for Women and Children
Ms Shobha Dixit, Chairwoman, IWN Southern Region & Director, Alpla India Pvt. Ltd.
Ms G Srividya Reddy, Vice Chairwoman, IWN Telangana & Vice Chairperson, G Narayanamma Institute of Technology & Science & Founder, MiraiNxt Innoworks
Leadership conclave Featured keynote conversations, fireside chats and dynamic panel discussions, the conclave convened a diverse range of luminaries from the various fields of work.
The conclave was very well received and around 250 participants comprising of professionals from industry, entrepreneurs, independent professionals, faculty and students from colleges participated at the Leadership Conclave 2022.
Uma Aysola Srividya Reddy Vanitha Datla Divya Varadarajan Medar Hema M Srinivas Urvashi Baid Shobha Dixit Nandita Sethi Dr. Anupama Panduru Jayanthi Talluri Smriti Goel